You can easily enhance images in your gallery. ReaGallery makes most image editing simple, including advanced effects like watermarks and red-eye correction.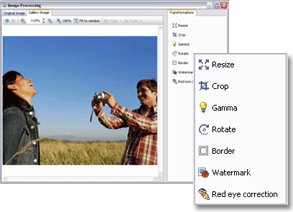 New ReaGallery visual effects can improve your photos in seconds, not hours! You can easily turn middling photos into works of art.

You can apply the whole set of image processing activities in batch to all images in the gallery.



Continue Tour »






"I use Pro version of ReaGallery to make my photo album pages. It makes processing pages full of images easy. It generates thumbnails and all the HTML code. A little editing of the template to put my own links in and what used to be hours making HTML pages becomes a ten minute job!"

David Cordy, Wingar Art, USA


"Incredible tool! This is an absolutely excellent piece of software, no PC should be without it, ReaGallery has all what you need.

Michael Lawley, UK


"ReaGallery is GREAT! It's intuitive, user-friendly and really works. Don't miss it!

Scott Wouters, Netherlands