ReaGallery offers four different ways to publish your web-galleries. You can "publish" your gallery into a local folder on your computer, publish it on the web using FTP access, burn it on CD or send it by e-mail.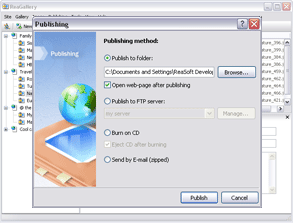 Select the way you like and click "Publish" button!

Thank you for taking this ReaGallery tour, now you can try it by yourself!



Download and try ReaGallery for free!






"I use Pro version of ReaGallery to make my photo album pages. It makes processing pages full of images easy. It generates thumbnails and all the HTML code. A little editing of the template to put my own links in and what used to be hours making HTML pages becomes a ten minute job!"

David Cordy, Wingar Art, USA


"Incredible tool! This is an absolutely excellent piece of software, no PC should be without it, ReaGallery has all what you need.

Michael Lawley, UK


"ReaGallery is GREAT! It's intuitive, user-friendly and really works. Don't miss it!

Scott Wouters, Netherlands