ReaGallery is a powerful and easy-to-use tool for creating great looking web albums with just a few mouse clicks.



Download ReaGallery

Design & Share:


ReaGallery now provides photo editing functionality - most popular image effects, including transparent watermark and red eye correction tools. Plus intuitive organizing and sharing capabilities.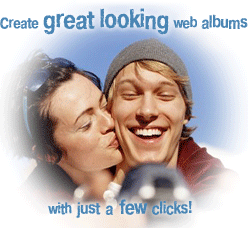 ReaGallery will help you to make web albums and slide shows quickly and easily!



Take a tour of ReaGallery










You can conveniently organize your entire photo collection into a hierarchy of sites and galleries, each one with different, unique look and feel!

learn more...






ReaGallery makes most image editing simple, including advanced effects like transparent watermark, and red-eye correction. Improve your photos!

learn more...






Share your digital photos - you can publish pictures on any storage device, send by email, put images on your own site and make gift CDs with slide show!

learn more...